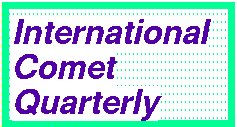 Subscribing To The International Comet Quarterly
The
ICQ
is published in January, April, July and October of each year, with annual subscription rates currently being US$60.00 worldwide with surface-mail delivery outside North America, including the annual
Comet Handbook
(or US$45.00 without the
Handbook
). Subscribers who do not wish to be billed, and who will keep track of when their subscription expires, may subscribe at the special rate of US$45.00 worldwide (the special rate without the
Handbook
is US$30.00); a US$30.00 annual additional amount must be ADDED for airmail delivery for ALL subscriptions outside the United States for which airmail delivery is preferred over surface-mail delivery. The second set of digits on the top line of your mailing-address label states the last whole number which you are scheduled to receive under your current subscription status).
The annual ICQ Comet Handbook is available for US$15.00 to ICQ subscribers, and for US$25.00 to non-subscribers.
Check or money order should be made payable, in U.S. funds drawn on a U.S. bank, to International Comet Quarterly. To pay by credit card, send an e-mail to icqcsc@eps.harvard.edu, and instructions will be sent to you. Note that we are working to get a subscription agency to handle future subscriptions, at which point the details on how to subscribe will change; more will be posted here soon in this regard. Until the change, subscription requests can be sent to the Editor at the address below:

Postal Address:
   International Comet Quarterly
   c/o Dr. Daniel W. E. Green, Room 209
   Dept. of Earth and Planetary Sciences
   Harvard University
   20 Oxford St.
   Cambridge, MA  02138
   U.S.A.

E-mail for questions:  dwe_green(at)eps.harvard.edu

---
[Note that special subscribers who fail to renew on time must pay for missed back issues at the regular rate of US$10.00 each.] NOTE: Subscriptions can only be started with the current issue; all back issues are to be obtained from the Editor (address above) at the rate of US$10.00 each (back issues are available from No. 29 onwards, with a few exceptions; about 10 or 12 issues of The Comet and The Comet Quarterly dating back to 1975 January are also available on a first-come-first-served basis until stock is depleted). Group rates are available upon request. Periodical subscription companies and book dealers do not receive discounts. There are no refunds for unused portions of subscriptions in the event of cancellation.
---
The ICQ also maintains a photometric archive of some 80,000 published comet observations; interested researchers should contact the Editor for more information.
---
ICQ